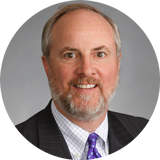 Blake Anderson
Senior Managing Director, Head of Strategy and Research | Capital Markets and Investment Banking
Blake Anderson is a Senior Managing Director and Head of Strategy and Research in Mesirow Capital Markets and Investment Banking. He focuses on municipal securities and high-yield, tax-exempt and taxable bond research for institutional clients, as well as domestic and international project and structured financing and special situations.
Blake has more than 30 years of investment experience. Prior to joining Mesirow in 2011, he was a Partner at Social Sphere Strategies, Managing Partner at Anderson Tuttle Properties and a Managing Director at Putnam Investments. At Putnam, he was Director of the High Yield Team, Senior Portfolio Manager and Director of tax exempt research while serving on the Executive, Risk Management and New Product committees. Previously, he was a Consultant at Coopers & Lybrand Actuarial and Benefits Consulting Group. Prior to Coopers, Blake was a Senior Underwriter at Cigna Corp.
Blake earned a Bachelor of Arts from McGill University.