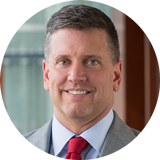 Christopher Ashbee, CFA, FRM
Managing Director, Portfolio Manager | Analytic Fixed Income
Chris Ashbee is a Managing Director and Portfolio Manager for Mesirow Analytic Fixed Income.
Chris has 17 years of industry experience and has been with Mesirow since 2020, when Chicago Equity Partners (CEP) Fixed Income team joined the firm. At CEP, Chris was a Director and Portfolio Manager for the Fixed Income team. Prior to joining CEP in 2010, he held positions at Morgan Stanley and Griffin, Kubik, Stephens & Thompson.
Chris earned a Bachelor's and Master's degree from the University of Alabama, and an MBA with honors from the University of Chicago Booth School of Business. He holds the Chartered Financial Analyst® designation and is a member of the CFA Institute and the CFA Society of Chicago. He also holds the Financial Risk Manager (FRM) certification.