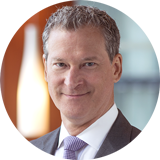 Curt Mitchell, CFA
Senior Managing Director, Chief Investment Officer | Analytic Fixed Income
Curt Mitchell is Chief Investment Officer and oversees all aspects of the investment process for Mesirow Analytic Fixed Income.
Curt has more than 35 years of industry experience. He has been with Mesirow since 2020, when Chicago Equity Partners (CEP) Fixed Income team joined the firm. At CEP, Curt was Chief Investment Officer and oversaw the Fixed Income portfolio and team. Prior to joining CEP in 2003, he also held positions at Loomis Sayles & Company.
Curt holds the  Chartered Financial Analyst® charterholder designation and is a member of the CFA Institute and the CFA Society of Chicago. Curt earned a Bachelor of Science in Accounting from Illinois Wesleyan University and an MBA from the University of Illinois.