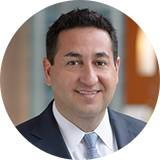 President, Senior Managing Director | Retirement Advisory Services
David Dermenjian is President of Mesirow Retirement Advisory Services and Chair of Retirement Advisory Services Investment Committee. In this role, David oversees the investment, operational and client management processes for the group, in addition to working directly with select clients.
David joined Mesirow in 2002 and has 24 years of financial services experience, including as a Trader of Options and Futures at the Chicago Mercantile Exchange.
He is a past associate board member of both the Susan F. Lasky Cancer Foundation and Children's Oncology Services, Inc. Currently, he is dedicating his time and resources to several local organizations focused on youth mentorship programs.
David earned a Bachelor of Science from the Indiana University's Kelley School of Business. He holds an Accredited Investment Fiduciary® designation and is a Registered Player Financial Advisor with the National Football League Players Association (NFLPA).