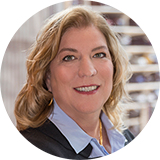 Kathy A. Vorisek
Senior Managing Director, Head of Equity Management, Portfolio Manager | Equity Management
As Senior Managing Director and Head of Equity Management, Kathy Vorisek directs the business and operations of Equity Management. Kathy is a portfolio manager for the Small Cap and SMID Cap strategies, a role she has held since 1998. She is also a member of Mesirow's Board of Directors which is responsible for overseeing the strategic direction of the firm. 
Kathy has over 35 years of industry experience. She joined Mesirow when the firm acquired Fiduciary Management Associates in 2016. At FMA, Kathy was also Senior Managing Director, Chief Investment Officer and Portfolio Manager for the Small Cap Value and SMID Cap Value strategies. Prior to joining FMA, she worked for Duff & Phelps Investment Research in Chicago. She is also a member of the CFA Institute, the Economics Club of Chicago, the Marquette University Finance Department Advisory Board, Women Investment Professionals, and a former board member of the CFA Society of Chicago. Kathy guides the firm's participation in the Big Shoulders Fund's "Stock Market Program" which provides education on the concepts of investing to eighth grade students in the neediest areas of inner-city Chicago and was named one of Crain's 2019 Notable Women Executives over 50.
Kathy earned a Bachelor of Science in finance from Marquette University and an MBA with dual concentration in finance and international business from the Kellogg Graduate School of Management at Northwestern University.