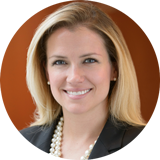 Katie Kimble, CAIA
Managing Director, Global Investment Management Distribution | Integrated Marketing and Communications
Katie Kimble is a Managing Director in Mesirow Integrated Marketing and Communications. She leads the Global Investment Management Distribution marketing team and is responsible for overseeing the creation and execution of investor marketing materials and client communications as well as managing responses to request for proposals, consultant updates and consultant database maintenance.
Preceding this role, Katie was Senior Vice President and led the Marketing & Communications team for Mesirow Advanced Strategies, Inc. Prior to joining Mesirow in 2011, she worked in investor reporting at Graham Partners. Before that, she was on the financial due diligence team at American Capital and on the financial services team at PricewaterhouseCoopers.
Katie earned a Bachelor of Science in accounting and a Master of Business Administration from Villanova University. She holds the Chartered Alternative Investment Analyst designation (CAIA®).