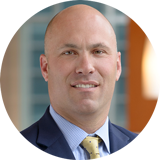 Mike Grippi
Managing Director and Head of Acquisitions | Institutional Real Estate Direct Investments
Mike Grippi is a Managing Director in Mesirow Real Estate Direct Investments. He is responsible for overseeing all aspects of the acquisition process, including managing sourcing, financial analysis, due diligence, and underwriting procedures.
Mike has 20 years of real estate investment experience. Prior to joining Mesirow in 2019, he served as a Senior Vice President at JLL/Morgan & Company and president of Investment Management at Holland Partner Group where he specialized in acquisitions, dispositions, recapitalizations and asset management. Before that, he held positions at Shea Homes as well as Marcus & Millichap.
He is a member of the National Multi-Housing Council.
Mike earned a Bachelor of Science in business economics from the University of Oregon.