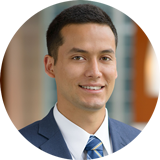 Carlos Covarrubias
"At Mesirow, I can develop critical investing skills by working alongside specialized, experienced teams."
Joining Mesirow...
Was an easy decision post college. It provided me the opportunity to step directly into asset management while getting exposure to diverse asset classes led by small teams of experienced industry professionals.
EDUCATION
University of Notre Dame, Finance and Economics
WORD THAT DEFINES YOU
Optimistic
FAVORITE BOOKS
Infinite Jest by David Foster Wallace and East of Eden by John Steinbeck
I am passionate about...
Empowering the Latinx community, particularly in areas where I can take action to make a difference, whether big or small.  I am extremely fortunate and privileged to have benefitted from opportunities that have led to where I am today. That's why it's important for me to give my time and efforts to others in the Latinx community.  
My interests outside work include...
Hip hop music and playing basketball. I grew up loving both, and each was a career that I contemplated on my journey to working in the world of finance!  I'm also passionate about Mexican food and watching stand up comedy.
Working remotely this year has taught me...
To separate work from personal life — a greater challenge than before when a commute downtown created that separation. I've also learned how important listening is to the success of any team, and that it's important to stay active — I do that by running or playing basketball.