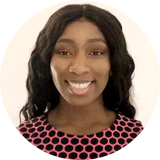 Gabby Bennett
"At Mesirow, I'm passionate about continuing to infuse Diversity, Equity and Inclusion in all aspects of the employee experience."
I joined Mesirow because...
I knew this was a firm that truly does value their people. There are so many examples where the firm shows that the wellbeing of their employees is their top priority.
EDUCATION
Wesleyan University
INTERESTS
playing volleyball, cooking/baking, songwriting
ONE WORD THAT DEFINES YOU
multifaceted
What drives me in my work is...
having the opportunity to make the workplace an equitable experience for all employees.
Advice to my younger self would be...
pursue the things you're interested in, not what you think others want you to do.
The most important part of collaborating as part of a team is...
transparency and communication.
Workplace culture matters because...
it is a huge part of the adult experience. For those that are employed, the spend the majority of their adulthood in a workplace. It's very important that they're in an environment where they feel comfortable and welcome.