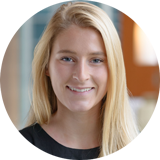 Grace Orndorff
"Finding a new, unexpected debt solution that fits both a client's and a lender's needs is like solving a puzzle..."
I joined Mesirow...
in September 2018 after participating in the summer internship program, working in Credit Tenant Lease (CTL and Structured Debt Products.
EDUCATION
Northwestern University, BA in Economics, Certificate in Managerial Analytics
MANTRA
"You won't get today back."
INTERESTS
Trying new recipes, recreational soccer, running
Advice to my younger self would be...
Comparison is the thief of joy. I used to struggle with comparing my path to that of others, but I've come to realize that there is no point in that comparison. It is much more important to enjoy the life that you've created for yourself and push forward uninfluenced by others' circumstances.
The most important part of collaboration is...
Comfortability of communication. I've found that a group is most successful when expectations are clearly laid out and there are open lines of communication for everyone to speak with one another. When people are comfortable enough to ask questions, share ideas and approach more senior colleagues, everyone wins.
I decompress by...
Engaging in activities that calm my mind and put me in a meditative state. Most frequently, that entails going on a long run or reading a good book. It's about taking your mind off any stressors and focus on the moment at hand.
At Mesirow, I'm passionate about...
Working on innovative debt structures. finding a new and unexpected solution that fits both a client's and a lender's needs, is like solving a puzzle, and it's satisfying when the group figures out a solution. Modeling these solutions is my favorite part of my work.