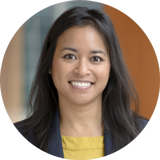 Rita Latnhotha
"My typical day is varied and fast paced as I act as liaison between plan sponsors, recordkeepers and fund managers."
I joined the firm...
in 2017 after working for a large insurance / financial company.
Education
Finance and accounting at Drake University
Motto
Don't stress. Be patient. Eat bacon.
Interests
Trying new restaurants, indoor and outdoor volleyball
The most important part of team collaboration is...
Communication. I'm a firm believer of "When in doubt, ask." This eliminates any assumptions. RAS is a fast-paced work environment, and there is constant communication between team members. It's important for everyone to be on the same page to deliver the highest level of client service.
Advice to my younger self would be...
Don't let a title limit you from advancing your career. There have been times I did not apply for senior positions because it was two or more levels above my current role. If you have the experience and are qualified, take the leap! This will expose you to more opportunities and you can continue to grow, develop  and explore different paths. I've had roles in client administration, accounting, consulting and relationship management. This led me to Mesirow and now I oversee the service team in Retirement Advisory Services.
My typical day is...
Varied and fast paced. I support our retirement services advisory team, acting as a liaison between plan sponsors, recordkeepers and fund managers. Because servicing our clients and their employer-sponsored retirement plans involves many moving parts, a typical day for me may include matters pertaining to plan design consultation, overseeing investment changes, pricing comparison analysis and compliance-related discussions.
Something that has surprised me at Mesirow is...
How much I enjoy working at a small-mid size company. I had spent the majority of my career at a large corporation and wasn't sure what to expect here. I appreciate the high degree of autonomy at Mesirow. My ideas are valued, and I have been able to make an impactful change to our team's processes. I've partnered with IT and recently implemented a client relationship management system to create workflow efficiencies. I'm excited to evaluate our successes and identify future enhancements and integrations.