Insights
Are ESG investing and portfolio alpha mutually exclusive?
While interest in sustainability as a portfolio objective is at an all-time high, many investors remain skeptical about its implications for return.
The approach we use for the Mesirow Analytic Fixed Income (MAFI) environmental, social and governance (ESG) strategy is designed to build portfolios that have strong sustainability characteristics while also potentially outperforming their benchmarks. The foundation of our portfolio construction process is our issuer selection model that emphasizes both "style factor" exposures and favorable ESG profiles.
Style factors, including quality, value, size, momentum and carry – are variables linked to a company that tend to coincide with return premiums. These premiums are a reward for bearing risk, structural impediments, or behavioral biases.
Companies with high ESG scores tend to have exposure to several style factors. For example, a portfolio of companies with high ESG scores has a statistically significant tilt to the quality factor. More broadly,
companies with high ESG scores show a strong correlation with several style factors that earn a premium over the market. This is not to say that ESG is the cause of the return premium. Rather, these style factors are sometimes concurrently present in companies with high ESG scores.
Portfolio construction that emphasizes exposure to these style factors and includes high ESG scores can provide both value enhancement (performance in excess of the market) and values alignment (a strong ESG profile).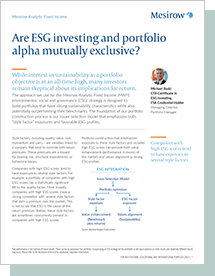 FOR INSTITUTIONAL, EDUCATIONAL AND INFORMATIONAL PURPOSES ONLY. | Past performance is not indictive of future results. There can be no assurance that portfolios incorporating an ESG strategy will be profitable or will equal previous or other results and materially different results may occur. Please refer to the disclosure at the end for additional, important information.
Spark
Our quarterly email featuring insights on markets, sectors and investing in what matters