Insights
The power of fixed income factor-based investing
The recent performance of traditional bond strategies has left many fixed income investors dissatisfied. In our opinion, passive strategies have allocated investors to indices with lower yields, greater credit risk, increased interest rate risk, significant turnover and fees that create structural underperformance.
The hunt for alpha has induced many traditional active managers to create excessively concentrated portfolios or to introduce surreptitious, volatility-selling strategies with unrecognized correlation risks that, we believe, underperform when investors least expect it.
Frustration with traditional strategies has sparked an increase in the number of fixed-income factor investing strategies, which over the last three years has more than doubled (to over 100). These strategies show promise not only because of their potential to deliver better risk-adjusted returns, but also because their excess returns have low correlations with the excess returns of traditional bond managers and those of other asset classes.
The benefits of well-constructed, multifactor portfolios allow investors to: 
Earn premiums superior to those of traditional asset class premiums.
Realize higher returns and lower risk than single-factor portfolios, because some of the factors have low correlations and provide a diversification benefit.
How factor investing works 
Risk premiums are the compensation asset holders receive for bearing factor risks. These may be classified as economic scenarios (such as recessions) in which realized cash flows are lower than expected cash flows. Or they could be structural frictions (such as the inability to take short positions in a security) that cause asset prices to be less than fully efficient.
Investors able to recognize inefficiencies and bear risks are rewarded with factor return premiums. In short, factor investing focuses on specific drivers of returns across fixed income asset classes rather than defining sources of return from sectors such as credit, mortgages and Treasuries.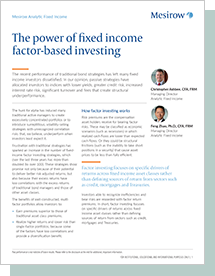 FOR INSTITUTIONAL, EDUCATIONAL AND INFORMATIONAL PURPOSES ONLY | Past performance is not indictive of future results. Please refer to the disclosure at the end for additional, important information.
Spark
Our quarterly email featuring insights on markets, sectors and investing in what matters