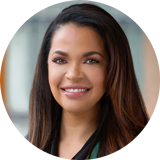 Alicia Verason
Vice President, Capital Markets and Investment Banking | Integrated Marketing and Communications
Alicia Verason is a Vice President in Mesirow Integrated Marketing and Communications. She leads the Capital Markets and Investment Banking marketing team and is responsible for overseeing brand alignment, business line messaging and communications, the creation and execution of marketing materials, CRM maintenance and management, general marketing strategy and lead generation. 
Prior to Mesirow, Alicia worked for Enfusion, a financial technology firm, where she established the marketing practice. During her tenure, Alicia developed a comprehensive lead generation strategy and managed the firm's messaging, brand strategy, corporate communications and events. Previously, Alicia worked for Berenberg Bank and held various roles in the company's U.S. Capital Markets and Asset Management divisions.
Alicia is a graduate of Arizona State University where she received a Bachelor's Degree in political science with a minor in history.