The Mesirow story
In 1937, Norman Mesirow founded an independent financial services firm owned by employees and invested in the interconnected success of our clients, communities and culture. 
Today, we carry that vision forward.
We invest in our communities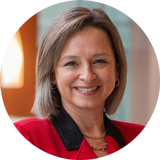 "We sustain our intentional culture and reputation as an employer of choice by enabling colleagues across the firm to connect, learn and advance in their careers."
Natalie A. Brown, CEO
Highlights
Employee Resource Groups: Mesirow ERGs cultivate professional development and personal growth, creating connections that enrich our culture and enable employees to bring their authentic selves to work each day: WomenConnect, PrideConnect, PeerConnect

Programs and Internships: At Mesirow, we help build the next generation of leaders through our Rotational Analyst Investment Management Program, Summer Intern Program and Cristo Rey Corporate Work/Study Program.
Highlights
One Medical: Convenient, affordable, high-quality healthcare and mental health support for all US employees and family members through sponsored memberships.

Employee Assistance Program (EAP): Free mental health support and services for employees and their dependents; no-cost confidential counseling for stress; relationship, parent and other personal matters; legal support; care for children, adults and pets; and other daily life services.

Wellness Reimbursement: Employees can access reimbursement for wellness / fitness associated expenses up to a $350 value per year.
Highlights
Milestone Money and Anniversaries: To recognize years of service, Mesirow celebrates milestone anniversaries by awarding employees an extra anniversary day off and Milestone Money. 

Vacation and Flex Time: Our paid time off program gives employees an allotment of days that encompass vacation and flex time based on years of service. Our program also includes a carryover provision for unused time off and summer hours, enabling employees to reduce their work hours on Friday afternoons.
Highlights
Student Loan Assistance Program: Mesirow is among only 7% of US employers to offer a formalized program to help employees face the challenges of student debt. Eligible employees receive monthly tax-free employer contributions towards the repayment of their student loan debt, along with debt counseling and refinancing tools and resources. We also offer tuition reimbursement, continuing education and ongoing training.

Personal Choice Retirement Account: Our 401(k) plan has multiple investment options, including a Personal Choice Retirement Account (PCRA). The firm also provides ongoing financial wellness education and programming. 
Spark
Our quarterly email featuring insights on markets, sectors and investing in what matters