Sale-Leaseback Capital
With more than 30 years of single-tenant net lease investing experience, Mesirow's nationally recognized Sale-Leaseback Capital group has completed more than 200 transactions valued at over $6.75 billion. Our experts work alongside companies and their independent advisors to assist in realizing their financial objectives. 
Acquisition criteria
Mesirow Sale-Leaseback Capital is the net lease real estate investment arm of Mesirow and is a nationally recognized industry leader in the net lease real estate market for more than 30 years.
Property type: Single-tenant office, industrial, retail or specialty purpose
Deal Size:
Single property transactions in excess of $10 million

Portfolio of properties to aggregate in excess of $10 million
Geography: Primarily located in North America
Industries: All industries
Tenants: Creditworthy public and private companies, not-for-profits, healthcare and governmental users
Representative transactions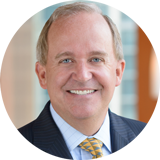 "Specializing in unlocking the hidden value of our clients' real estate holdings for over 30 years."
Douglas Barker, Senior Managing Director, Sale-Leaseback Capital