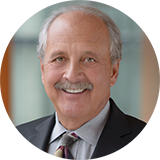 Gerry Levin
Senior Managing Director, Co-Head Sale-Leaseback Capital | Bridge Equity
Gerry Levin is Senior Managing Director and Co-Head of Mesirow Sale-Leaseback Capital.  The Sale-Leaseback Capital business serves to provide fully integrated real estate capital market services to single tenant occupants on a national platform.  In his position in Mesirow Realty Bridge Equity, Gerry is involved in all aspects of the Bridge Equity investment process and is the founding member of the Investment Committee for Mesirow Realty Bridge Equity.  Gerry served as a member of the Mesirow Board of Directors for more than 25 years and in 2020 began serving in an advisory role on the Mesirow Capital Markets Board of Directors.
With more than 45 years of real estate experience, Gerry is a well-known and highly regarded professional in the industry. He joined Mesirow in 1980 to help create the firm's Real Estate Investments division, predecessor to the current Sale-Leaseback Capital group. Gerry has experience capitalizing real estate for a wide range of public and private companies in various industries. He has worked with rated and non-rated publicly-held companies, foreign corporations and strong privately-held companies.
Gerry has written articles for industry publications such as Financial Executive Magazine and Journal of Corporate Real Estate. He frequently speaks at net lease industry conferences. Gerry is also a member of the International Council of Shopping Centers and Mortgage Bankers Association of America.
Gerry earned a Bachelor of Science in economics from the University of Wisconsin and a Master of Business Administration from Northwestern University Kellogg School of Management. He is a Certified Public Accountant (CPA) and holds an Illinois real estate broker license.