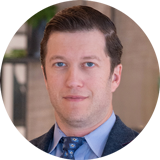 Nathaniel Sager
Senior Managing Director, CTL and Structured Debt Products | President & Head of Strategy, Capital Markets
Nathaniel Sager is a Senior Managing Director and serves as Co-Head of Mesirow Credit Tenant Lease and Structured Debt Products. He is responsible for providing private debt capital raising services for clients that own commercial real estate properties, as well as fixed income investment banking services to institutional fixed income investors. He specializes in creative structured solutions including zero coupon accretion notes, mezzanine notes and senior secured residual bonds, and has expertise in analyzing and structuring governmental transactions. Nat also serves as Mesirow Capital Markets President and Head of Strategy, providing thought leadership and direction across the Capital Markets business. He is Vice Chairman of Mesirow's Capital Markets Board of Directors, contributing to the stewardship and oversight of business activities and risk mitigation in Mesirow Financial, Inc. Additionally, as a member of the Mesirow Board of Directors, he contributes to developing and overseeing the strategic direction of the firm.
Prior to joining Mesirow in 2010, Nat worked as the director of business development and leasing at ECD Company, a Chicago-based real estate private equity and development firm.
Nat earned a Bachelor of Arts from Tufts University and a Master of Business Administration from the University of Chicago Booth School of Business. Nathaniel holds FINRA Series 7 and 63 licenses.