Risk Management Overlays: Active
For institutional investors
Why consider?
Our active risk management process is designed to optimally manage uncompensated currency risk in client portfolios by hedging away a portion of currency losses while enabling the pass through of currency related gains.
OBJECTIVE
Manage client's existing currency risk to potentially add value in gains and limit losses
TARGET RETURN*
Target 100-150 basis points p.a. through active adjustments to client's hedge ratio
RISK **
Tracking error of 2-4% (typical mandate)
TIME HORIZON
Realize target returns over 3- to 5-year investment horizon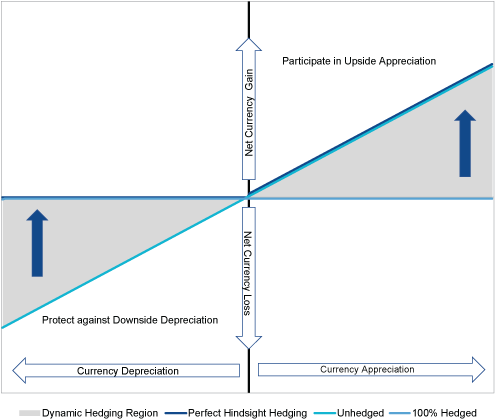 MCM. This is a hypothetical chart, it is assuming no carry costs to hedge. Actual results may materially differ. Please refer to the disclaimer page located here (link to main disclaimer page).
*Actual returns may materially differ from target returns.
**Actual tracking error or volatility may materially differ from the targets set forth herein. Risks and offering terms vary materially by product. Nothing contained herein constitutes an offer to sell interest in any Mesirow investment vehicle. Please refer to the disclaimer page here.