Risk Management Overlays: Passive Plus
For institutional investors
Why consider?
With our Passive Plus solution, investors can manage unrewarded currency risk by systematically and infrequently adjusting their strategic hedge ratio.
OBJECTIVE
Efficiently hedge long-term currency movements; insulate the portfolio from fluctuation
TARGET RETURN*
Target 25-40 basis points p.a. through infrequent adjustments to client's hedge ratio
RISK**
50-80 basis points tracking error (typical mandate)
TIME HORIZON
Long-term solution infrequently reset strategic hedge ratio
passive plus – Illustration of signal generation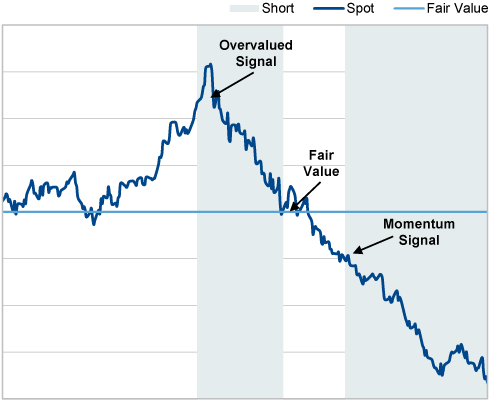 This is a hypothetical chart with respect to currency price movements. Signals are not reflective of actual trades and are illustrative only. The hedge ratio can fluctuate as currency moves towards or away from fair value, affecting risk. Please refer to the disclaimer page at the end of this presentation for important additional information.
*Actual returns may materially differ from target returns.
**Actual tracking error or volatility may materially differ from the targets set forth herein. Risks and offering terms vary materially by product. Nothing contained herein constitutes an offer to sell interest in any Mesirow investment vehicle. Please refer to the disclaimer page here.