Risk Management Overlays: Passive
For institutional investors
Why consider?
Our passive risk management provides investors a customized solution to manage unrewarded currency risk in their international portfolios.
OBJECTIVE
Reduce or eliminate risk while ensuring best execution and effective cash flow management
TARGET RETURN*
Passively remove currency risk; no return target
RISK**
Minimize tracking error while maximizing trading efficiency
TIME HORIZON
Static, long-term hedge
MSCI World Currency Returns vs. US Dollar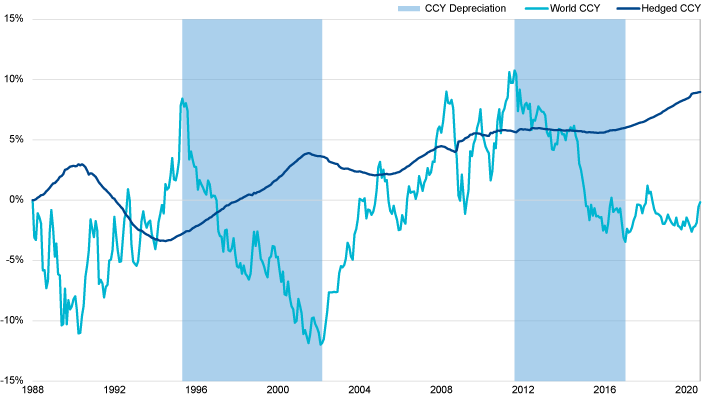 Source: MCM, Bloomberg & MSCI. Past results are not necessarily indicative of future results. Actual results may materially differ. Please refer to the disclaimer page located here (link to main disclaimer page).
*Actual returns may materially differ from target returns.
**Actual tracking error or volatility may materially differ from the targets set forth herein. Risks and offering terms vary materially by product. Nothing contained herein constitutes an offer to sell interest in any Mesirow investment vehicle. Please refer to the disclaimer page here.