Insights
2020 Mid-year Review: Food, Beverage and Agribusiness
2020: Mid-year review
Key market drivers
2019 was another strong year in terms of M&A activity within the food, beverage and agribusiness industry and momentum through most of Q1 2020 continued at a robust pace followed by an unprecedented slowdown due to COVID-19 and the resulting global economic crisis. Many dealmakers passed up larger, transformational transactions in lieu of smaller, opportunistic acquisitions while shoring up balance sheets and focusing on liquidity until the post-COVID "unknown" becomes more of a known quantity. A majority of middle market deals staged to go to market in late-Q1/early-Q2 were put on hold, while timelines for deals in-market have been stretched. Better news has surfaced in recent weeks with investors/buyers having experienced a significant uptick in (pent-up) M&A activity as local economies continue to open and credit providers refine their outlooks regarding risk appetite and deal structures.
221 control deals were announced during the first half of 2020, an 18.8% decline from a year prior, equating to $12.5 billion of disclosed value, which was a 2.9% increase compared to the same period one year ago. While the broader market has taken a temporary hit, certain sub-sectors within the value chain, such as alcoholic beverages, center-of-the-store packaged food, retail distribution, retail grocery and snack foods have proven resilient.
Chart 1: U.S. FOOD, BEVERAGE AND AGRIBUSINESS M&A VOLUME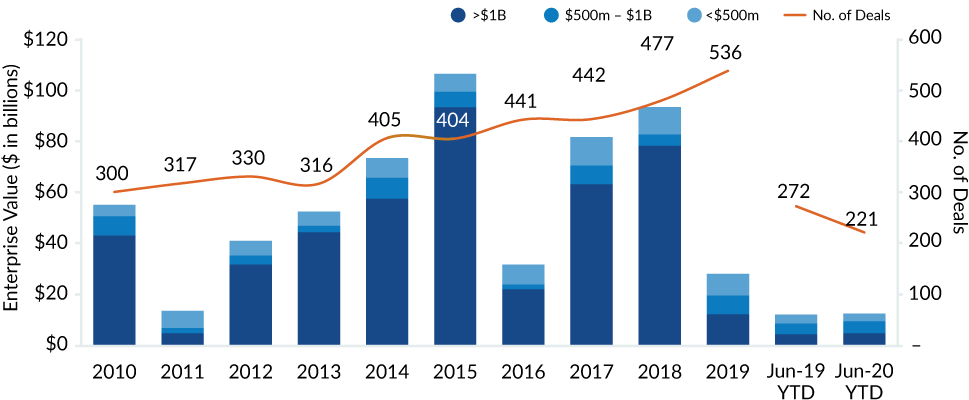 Source: FactSet.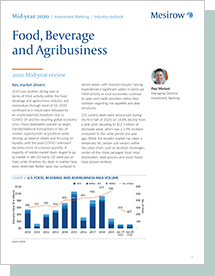 Spark
Our quarterly email featuring insights on markets, sectors and investing in what matters