Insights
2021 Mid-Year Outlook: Aerospace & Defense
2021: Update
At of the start of 2021, watchers of the Aerospace & Defense (A&D) industry were focused on the pace of the vaccine rollout and on how fast commercial and business travel would come back after a year of COVID-induced shutdown. While the world's emergence from the pandemic remains ongoing, the latest data indicates that a recovery is strongly underway. How far it will come back, and how quickly, remains to be seen. In the meantime, conditions have created opportunities throughout the sector.
In the spring/summer of 2020, the pandemic was in full swing. There was no travel at all. Entire fleets were grounded as travelers either sheltered in place or waited to see how the situation would progress.
Now, with the vaccine rollout continuing and states eliminating restrictions, the commercial airline industry is showing signs of returning to pre-pandemic levels. Leisure has come back to 75-80% of pre-pandemic traffic. Year-over-year data from Spring 2020–Spring 2021 are largely meaningless; comparisons to the depths of the pandemic a year ago won't really tell us much. Rather, the shape of recovery in commercial travel will be largely reliant on passenger traffic going forward. And on that score, the immediate future looks bright:
90% of US citizens intend to fly at some point in the future.

Almost two-thirds (64%) of the US adult population intend to fly within the next 12 months.

Nearly three-quarters (73%) of those intending to fly within the next 12 months intend booking at least one month in advance (and much more for some).

Leisure accounted for more than three-quarters (78%) of proposed air travel.
Source: The Cirium Traveller Intelligence Report 2021 | US Survey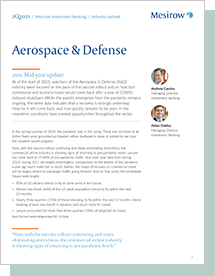 Spark
Our quarterly email featuring insights on markets, sectors and investing in what matters