Insights
2021 Mid-Year Outlook: Technology
Human capital management sector update
The pandemic that has gripped the US since March 2020 affected every part of the technology sector, human capital management (HCM) probably more than most. We don't believe it's overstating the case to say that the pandemic will long be regarded as a transformative event for human resources departments and the technology companies that serve them.
Overview of M&A activity
That said, the underlying trends influencing buyers and sellers are largely unchanged from before the pandemic. The market remains relatively fragmented by a multitude of upstart players and numerous customized SaaS offerings. Larger software platforms are acquiring smaller firms with the goal of improving their market presence, increasing their product base and growing market share. Strategic and private equity-backed players are using acquisitions to consolidate positions, stay competitive or establish themselves as emerging leaders.

The current activity and other factors suggest that the HCM technology sector will remain a fertile ground for deal makers, and we anticipate M&A activity within the sector will remain strong as a result.
CHART 1: HCM TECHNOLOGY TRANSACTION VOLUME

Source: FactSet, company filings, 451 Research. As of 8.19.2021.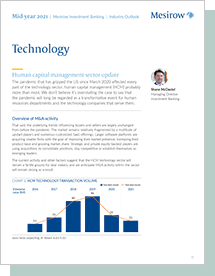 Spark
Our quarterly email featuring insights on markets, sectors and investing in what matters