Insights
3Q2021 Capital Markets Brief
3Q2021 Review
As we close the third quarter of 2021, the party rolls on and the heavy-handed knock at the door that we all expect has not been heard above the loud chatter, although the two and a half point dip in the 30-year Treasury bond and the equity dump rattled the knob. In spite of this, equity markets continue to sleepwalk through this liquidity fueled asset bubble (S&P 500 at 25.82X as we write). Credit spreads dance ever tighter. 
If the rates markets haven't heard the knock, perhaps some government bond traders noted the late hour; one to three month notes inverted this week as traders eyed the cascade of dysfunctional Washington headlines: government spending authorization, debt limit, infrastructure bill stall, Senate reconciliation stimulus bill deadlock, Fed taper on the near horizon.

So much to worry about, but so little market reaction…Please find the full brief below.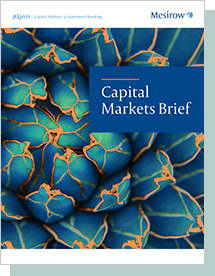 Spark
Our quarterly email featuring insights on markets, sectors and investing in what matters