Insights
Mesirow Sustainability Policy
Corporate responsibility and sustainability have been core values of Mesirow since the firm's founding in 1937.
Our founder, Norman Mesirow, expressed the tenets of the firm as:
"Hire good and ethical people and leave them alone."
More than eight decades later, this belief continues to define how we run our business. We invest 
in our people, empowering diverse, entrepreneurial professionals to innovate within our inclusive 
culture.
"Treat clients as you would like to be treated."
Today, we invest with our clients, working side-by-side in a personal, more custom approach to 
reaching financial goals. We work with our valued investors and partners to offer investment options that
incorporate environmental, social and governance (ESG) and social impact values.
"Give back to the community — it's the right thing to do."
We invest in Chicago and the global communities where our clients live and work, sparking 
positive change through deep civic engagement.
Today, we stand on the shoulders of Norman Mesirow as his successors continuously seek 
to improve our culture, serve our clients, and better our world. We believe these tenets are 
fundamental to doing good business, and we strive to model good corporate citizenship, ESG 
integration, accountability, and transparency. In doing so, we hold our employees, business 
partners, and investment prospects to the same high standards with the ultimate goal of 
improving long-term results to our clients, providing value creation for our stakeholders and 
demonstrating sustainable growth for our organization.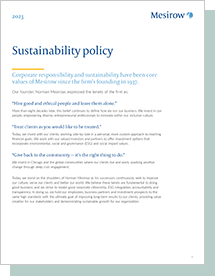 Spark
Our quarterly email featuring insights on markets, sectors and investing in what matters