Insights
Use currency as a risk provider or return generator
The currency market is the largest and most liquid in the world, with approximately $6.6 trillion traded a day, up from $5.1 trillion in 2016.* In a market that large and fast moving, inefficiencies inevitably arise that astute investors can use to help manage risk, pursue more predictable returns, or both. Learn more in our new report, "Currency for Institutional Investors."
For more information on how our FX programs can be customized in order to meet your investment goals, please visit mesirow.com/currency.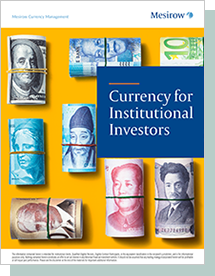 Mesirow named Currency Manager of the Year for the third consecutive year by MoneyAge
*"Bank of International Settlements Triennial Report 2019," https://www.bis.org/statistics/rpfx19_fx.htm
The information contained herein is intended for institutional clients, Qualified Eligible Persons, Eligible Contract Participants, or the equivalent classification in the recipient's jurisdiction, and is for informational purposes only. Nothing contained herein constitutes an offer to sell an interest in any Mesirow Financial investment vehicle. It should not be assumed that any trading strategy incorporated herein will be profitable or will equal past performance. Please see the disclaimer at the end of the materials for important additional information.
Spark
Our quarterly email featuring insights on markets, sectors and investing in what matters