A great retirement starts with a great plan
Our brochure "4 Steps to Retiring Early and Well" can help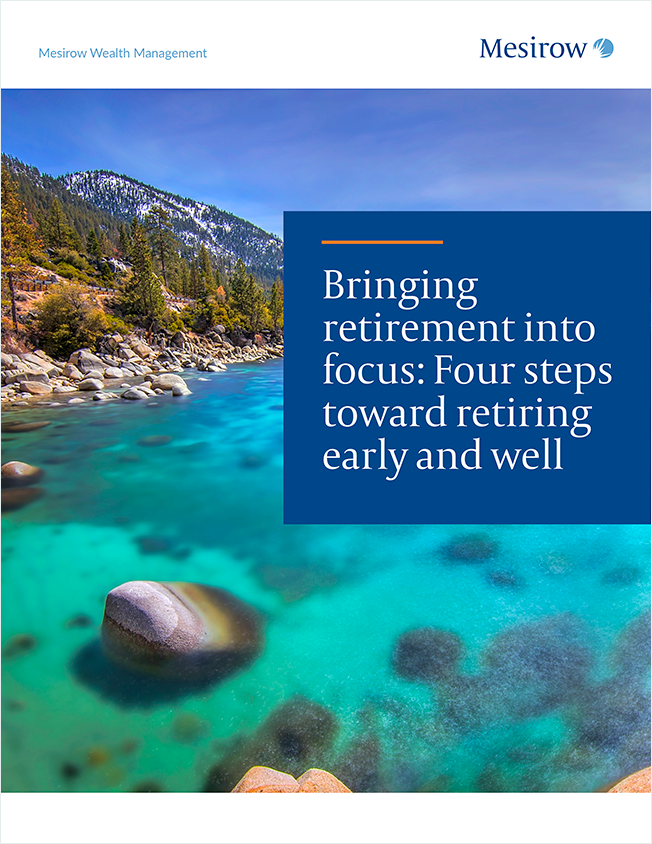 The Covid 19 pandemic was a catalyst for people in their 50's and early 60's to re-examine their retirement plans. If you are one of those, or are interested in nailing down your retirement plans, this brochure is for you.
In it you'll learn to:
Respect the change – Are you prepared for the life changes retirement brings
Define the terms – When can you afford to retire?
Get organized – Just like any well-run business, well organized individuals and families have a system in place to document and track their finances
Seek professional advice – You don't necessarily need to give up managing your own assets, but a financial planner or advisor can assist you as you sort through options, help you make informed decisions, and keep you up to date on changing regulations.
About
Mesirow Wealth Management is the firm's founding capability. We are the initial namesake business of Norman Mesirow, whose vision was to serve with purpose, applying the highest standards of professionalism as we advise individuals and families on their most important life goals. More than eight decades later, we measure our client relationships in years, and often generations, as we move in unison with our clients toward shared goals.
Wealth advisory services offered by Mesirow Financial Investment Management, Inc., an SEC-Registered Investment Advisor. Securities offered through Mesirow Financial, Inc., member FINRA, SIPC. Advisory Fees are described in Mesirow Financial Investment Management Inc.'s Part 2A of the Form ADV. Mesirow refers to Mesirow Financial Holdings, Inc. and its divisions, subsidiaries and affiliates. The Mesirow name and logo are registered service marks of Mesirow Financial Holdings, Inc.