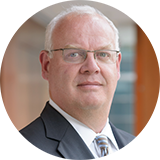 Alasdair Cripps
Chief Executive Officer and Chief Investment Officer | Institutional Real Estate Direct Investments
Alasdair Cripps is the Chief Executive Officer and Chief Investment Officer in Mesirow Institutional Real Estate Direct Investments. He is responsible for leading the direct equity real estate investment business and participates in all aspects of the investment process. He is a member of the Investment Committee for Mesirow Institutional Real Estate Direct Investments and a member of the firm's Board of Directors.
Alasdair is a well-known and highly regarded professional in the industry with over 30 years of experience. Prior to joining Mesirow in 2007, he was a Partner and a Portfolio Manager at Capri Capital Partners, where he oversaw a portfolio of over $3.5 billion in real estate assets. He has completed more than $6.5 billion in transactions (acquisitions and divestitures), and was directly responsible for portfolios with a gross market value of over $7.5 billion. At Capri, he was active in all parts of equity real estate which included: asset management, financing, acquisition, dispositions, repositioning/ renovations, budgeting, valuations, client reporting and portfolio strategy. Before that, he worked at JMB Realty Corporation.
Alasdair is an active member of the Pension Real Estate Association, the Urban Land Institute, The International Council of Shopping Centers, and a Board Member of the National Multi-Housing Council. He is a Board Member of Over the Rainbow, an Illinois not-for-profit organization with a goal of building and maintaining apartments that are specifically designed to help severely disabled people realize their dreams of independent living.
Alasdair earned a Bachelor of Business Administration from the University of Wisconsin-Madison.