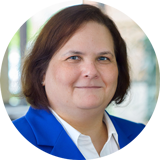 Brenda Bernstein
Vice President, Plan Funding Strategies | Retirement Advisory Services
Brenda Bernstein is a Vice President in Mesirow Retirement Advisory Services. She is responsible for the design of corporate-owned life insurance (COLI) solutions to address client needs. She provides financial analysis that includes carrier illustrations and competitive comparisons, as well as other due diligence and client support.
Brenda has 26 years of experience working with COLI and BOLI products. Prior to joining Mesirow in 2015, she was senior design consultant with Mezrah Consulting, where she provided financial advisors with recommendations concerning insurance products and addressed technical questions in the areas of estate, business and supplemental retirement planning. In addition, she provided case design and insurance illustrations for situations requiring sophisticated planning. Before that, she held positions at Aon Consulting, Clark Consulting and SunTrust Bank.
Brenda earned a Master of Taxation degree from the J. Mack Robinson College of Business Administration, a Bachelor of Arts and a Master of Arts from the State University of New York at Stony Brook College of Business (formerly the W. Averell Harriman School for Management and Policy).