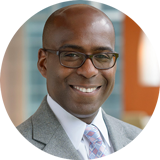 Brian Gant
Senior Vice President and Head of Dispositions | Institutional Real Estate Direct Investments
Brian Gant is a Senior Vice President of asset management in Mesirow Institutional Real Estate Direct Investments. He is involved in all aspects of managing the group's real estate assets.
Brian has more than 20 years of experience in real estate and capital markets, including all major property types, specializing in the multifamily sector. Prior to joining Mesirow in 2014, Brian was Director of Asset Management services at the Illinois Housing Development Authority. Before that, he served as Director of Asset Management at Origin Capital Partners and an Asset Manager for a Chicago-based real estate investment advisory firm.
Brian is a licensed real estate broker in the state of Illinois. He earned a Bachelor of Arts with honors from Princeton University and an Master of Business Administration from The Kellogg School of Management at Northwestern University. He is currently a member of The Princeton Club of Chicago and is a Kellogg real estate alumni mentor.