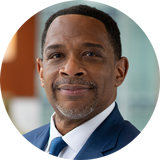 Carl H. Davis II
Senior Vice President; Head of Diversity, Equity and Inclusion and Corporate Recruitment | Human Resources
Carl Davis is the Senior Vice President; Head of Diversity, Equity and Inclusion and Corporate Recruitment in Mesirow Human Resources. He is responsible for spearheading the recruitment efforts across multiple lines of business and consults with strategic decision makers globally to strengthen the value proposition within our Investment Management, Capital Markets, Investment Banking and Corporate Services teams. Additionally, Carl serves on Mesirow's Inclusion Council.
Carl has more than 25 years of experience in technology and financial services recruitment. Prior to joining Mesirow in 2016, he was a Senior Technology Recruiter with JPMorgan Chase. Carl oversaw the recruitment of all technology professionals across all platforms, as well as vendor management for the largest revenue generator, GTI (Global Technology Infrastructure), while working with their asset management, fixed income and commercial community bank teams.
Carl is a proud board member of the Carl Davis Foundation and volunteers for Big Brothers Big Sisters.
Carl earned a Bachelor of Science in liberal arts from University of Illinois at Chicago.