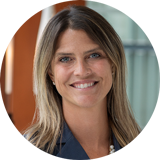 Elizabeth Funk
Managing Director | Institutional Sales and Trading
Elizabeth Funk is a managing director and negotiated underwriter in Mesirow Institutional Sales and Trading municipal underwriting group. In this role, Elizabeth assists in the distribution of new issue negotiated deals and transactions and manages the bidding process to verify deal details and advance placement of client orders.
Elizabeth brings more than 17 years of experience to Mesirow. Prior to joining the firm, Elizabeth worked at Hilltop Securities where she served as the Managing Director of underwriting and debt capital markets. Prior, she served in senior roles at Citigroup and Stifel, Nicolaus & Co.
Elizabeth is a partner and program mentor for the Municipal Bond Women's Forum and a National Board Member for Women in Public Finance where she co-chairs the mentorship committee. She is also a volunteer mentor at Rock the Street, Wall Street, which strives to bring racial and gender equity to the financial markets and create career pathways for high school girls into the industry.
Elizabeth has a Bachelor of Arts in Economics from the University of Kansas and a Master of Business Administration from Regis University. She is a second-year student at the Securities Industry Institute at Wharton School of Business. She holds Series 7, 50 and 63 licenses.