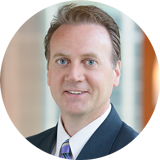 John D. Pierson
Senior Managing Director, Chief Financial Officer | Institutional Real Estate Direct Investments
John Pierson is a Senior Managing Director and Chief Financial Officer in Mesirow Institutional Real Estate Direct Investments. He oversees financial reporting, tax compliance and cash management operations. Additionally, he is responsible for ownership structuring and debt compliance of the team's portfolios.
John has more than 25 years of experience in investment management accounting and reporting, treasury and financial analysis. Prior to his current role, John was a Senior Vice President in the Mesirow Accounting and Finance, responsible for corporate and investment partnership accounting for the firm's real estate development, private equity, investment strategies and consulting businesses. Prior to joining Mesirow, John worked at Stein & Company, a real estate development, management and consulting firm that was acquired by Mesirow in 1996. In that role, he was responsible for the financial and tax reporting of the firm, its subsidiary business units and its joint venture investment partnerships.
John earned a Bachelor of Science from Illinois State University. He is a Certified Public Accountant (CPA) and is a member of the American Institute of Certified Public Accountants (AICPA).