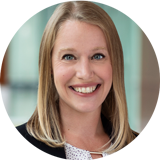 Laura Sullivan
Senior Managing Director, Strategic Planning & Development, Head of Compensation
Laura Sullivan serves as the Senior Managing Director, Strategic Planning & Development and Head of Compensation. In this capacity, she acts as a strategic advisor to the CEO and oversees strategic initiatives across the firm. She also manages Mesirow's facilities department as well as analyzes, reviews and approves compensation firmwide.
With more than 15 years in financial services, Laura joined Mesirow in 2013 and has held several roles focusing on accounting, finance and strategic planning. Most recently, she served as Managing Director, Head of Financial Planning, Analysis and Compensation.
Prior to joining Mesirow, Laura worked at Citadel in financial reporting and Ernst and Young in assurance and advisory business services.
Laura earned a Bachelor of Science in Accounting from Miami University. She became a Certified Public Accountant in February 2007 and is a member of the American Institute of Certified Public Accountants.