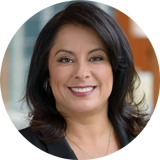 Lori Rodriguez Casey
Managing Director, Asset Management | Institutional Real Estate Direct Investments
Lori Rodriguez Casey is a Managing Director of Asset Management in Mesirow Institutional Real Estate Direct Investments. She is involved in all aspects of managing the group's real estate assets.
Lori has over 30 years of real estate experience, all within the multifamily sector. Prior to joining Mesirow in July 2014, she was a Business Developer and Regional Manager for Marquette Companies, responsible for overseeing the operations of a portfolio of 11 value-add and new development properties totaling more than 3,000 units. Before that, Lori was a Regional Manager for Insignia Management Company and for Coventry Properties.
Lori holds an Apartment Portfolio Manager certification from the National Apartment Association (NAA). She is currently a member of the NAA and the Chicagoland Apartment Association (CAA) and formerly served as a board member of the CAA.