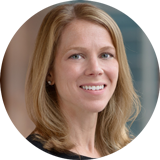 Renee M. Schreiber
Senior Managing Director, Head of Enterprise Risk Management, Deputy General Counsel | Legal & Compliance
Renee Schreiber is Head of Enterprise Risk Management, Deputy General Counsel and Corporate Secretary of Mesirow. In this capacity, Renee is responsible for overseeing the identification and management of risks to the firm and its businesses, advising the company and Mesirow Board of Directors on general corporate matters and employment issues. Renee leads the Mesirow Response Team, responsible for planning, communicating and executing Mesirow's strategy and policies relating to the Coronavirus pandemic. Renee also co-chairs the Mesirow Sustainability Council, driving sustainable investing and corporate practices across the organization. Providing strategic direction regarding the firm's real estate portfolio and office facilities since 2014, Renee oversees Mesirow Facilities.
Renee has extensive experience advising regulated business groups on changing business environments and reviewing and advising on investment products and strategic transactions and acquisitions. Prior to joining Mesirow in 2009, she was a Corporate Associate at Kirkland and Ellis and Perkins Coie.
Renee holds a Juris Doctor from Northwestern University School of Law and a Bachelor of Arts from Loyola University of Chicago, magna cum laude.