Insights
2020 M&A market outlook
Expect M&A activity within the paper, plastics, packaging and specialty printing sectors to pause due to overall concerns regarding COVID-19 and economic recession but reaccelerate
and remain strong as has been the case over the past number of years. Private equity firms in
particular are taking notice that the packaging industry, while not high growth, offers strong,
stable and consolidation opportunities at attractive valuation for both buyers and sellers.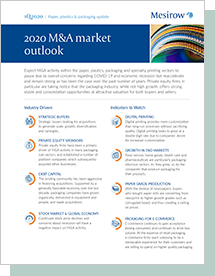 Spark
Our quarterly email featuring insights on the markets, sectors and investing.