Insights
2020 Mid-year Review: Test & measurement and industrial automation
Key market drivers
The Test & Measurement and Industrial Automation (T&M / IA) sector ended 2019 with strong financial results. Approximately 50% of the peer group achieved record revenue results. However, as a result of COVID-19, economic activity and demand within the sector significantly decelerated in the first few months of 2020 and into Q2.
Market response appears consistent with the spread of the virus, with the negative impact in North America and Western Europe trailing that of China. Stock price performance across the sector was correlated with that of the broader market, with a sharp decline in late March, a rebound in April and May and volatility returning in June.
Many T&M / IA served markets — most notably healthcare, food and beverage, energy, communications, infrastructure and defense — were deemed essential businesses and continued to operate through shelter-in-place orders in many regions of the world.
In Q1 and into Q2, companies within the sector responded to COVID-19 primarily by focusing on employee health and safety while ensuring business continuity for ongoing operations. Other priorities included maintaining financial strength, flexibility and liquidity as well as preparing their cost structure for the challenging environment ahead.
Chart 1: Index price performance: Test & Measurement and Industrial Automation1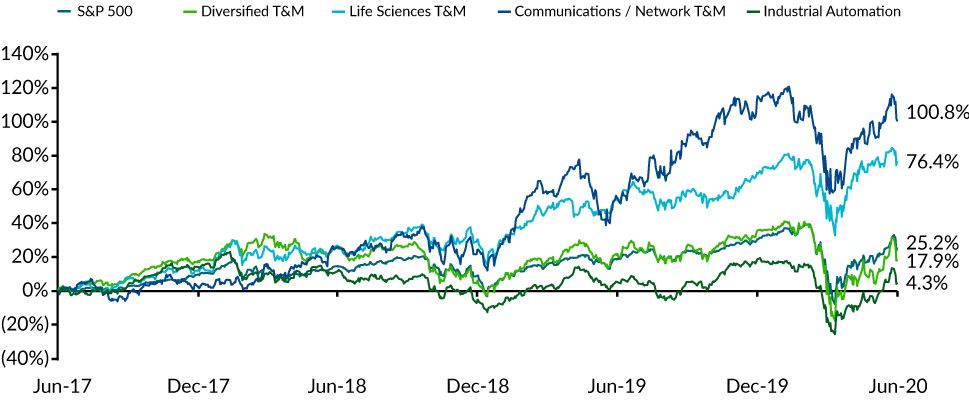 Source: FactSet as of June 12, 2020. Past performance is not indicative of future results. Please see page 4 for important information.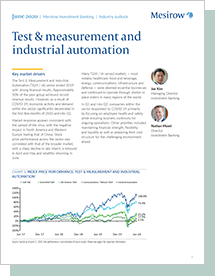 1 Diversified T&M Index: AMETEK, Inc. (NYSE:AME), ESCO Technologies Inc. (NYSE:ESE), FARO Technologies, Inc. (NASDAQ:FARO), Fortive Corp. (NYSE:FTV), Hexagon AB Class B (STO:HEXA-B), Itron, Inc. (NASDAQ:ITRI), Landis+Gyr Group AG (SIX:LAND), MKS Instruments, Inc. (NASDAQ:MKSI), MTS Systems Corporation (NASDAQ:MTSC), National Instruments Corporation (NASDAQ:NATI), Oxford Instruments plc (LSE:OXIG), Sensata Technologies Holding PLC (NYSE:ST), Spectris plc (LSE:SXS), TE Connectivity Ltd. (NYSE:TEL), Teledyne Technologies Inc. (NYSE:TDY), Teradyne, Inc. (NASDAQ:TER), Xylem Inc. (NYSE:XYL).
Life Sciences T&M Index: Agilent Technologies, Inc. (NYSE:A), Becton, Dickinson and Company (NYSE:BDX), Bio-Rad Laboratories, Inc. (NYSE:BIO), Bio-Techne Corporation (NASDAQ:TECH), Bruker Corporation (NASDAQ:BRKR), Danaher Corporation (NYSE:DHR), Mesa Laboratories, Inc. (NASDAQ:MLAB), Mettler-Toledo International Inc. (NYSE:MTD), PerkinElmer, Inc. (NYSE:PKI), Sartorius AG (FWB:SRT), Thermo Fisher Scientific Inc. (NYSE:TMO), Waters Corporation (NYSE:WAT).
Communications / Network T&M Index: Advantest Corp. (TSE:6857), Anritsu Corporation (TSE:6754), EXFO Inc. (NASDAQ:EXFO), Keysight Technologies Inc. (NYSE:KEYS), NetScout Systems, Inc. (NASDAQ:NTCT), Spirent Communications plc (LSE:SPT), Viavi Solutions Inc. (NASDAQ:VIAV).
Industrial Automation Index: ABB Ltd. (SIX:ABBN), ATS Automation Tooling Systems Inc. (TSX:ATA), Cognex Corporation (NASDAQ:CGNX), Emerson Electric Co. (NYSE:EMR), FANUC (TSE:6954), FLIR Systems, Inc. (NASDAQ:FLIR), Honeywell International Inc. (NYSE:HON), Keyence Corporation (TSE:6861), KION GROUP AG (FWB:KGX), Lincoln Electric Holdings, Inc. (NASDAQ:LECO), OMRON Corporation (TSE:6645), Rockwell Automation, Inc. (NYSE:ROK), Schneider Electric SE (Euronext:SU), Siemens AG (FWB:SIE), Yaskawa Electric Corporation (TSE:6506), Yokogawa Electric Corp. (TSE:6841).
Spark
Our quarterly email featuring insights on markets, sectors and investing in what matters