Insights
2020 Year-End Review: Test & Measurement and Industrial Automation
2020: Fall update
Primary influencers on the sector
Subsequent to the initial impact of COVID-19 shutdowns, test & measurement and industrial automation (TM&IA) equity performance has continued to rebound through 3Q2020 and into 4Q2020 with each of the sector indices trading at or above pre-COVID-19 levels. 
Earnings visibility and expectations have improved across the sector. Analysts' EBITDA estimates for the Next Twelve Months (NTM) have exhibited a sharp rebound as shown below. At the outset of COVID-19 shutdowns, NTM EBITDA expectations showed a 25% decline but have recovered by 25% from the July trough. Management teams remain optimistic for a sustained recovery in 2021. However, at the time of this writing, there are concerns that the second wave of COVID-19 cases may result in another round of factory shutdowns, causing disruptions across global supply chains. 
Chart 1: Equity Performance (2017 – current)
1

Source: FactSet, as of 12.11.20. Past performance is not indicative of future results.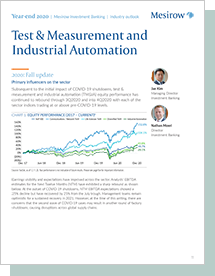 1. Diversified T&M Index: AMETEK, Inc. (NYSE:AME), ESCO Technologies Inc. (NYSE:ESE), FARO Technologies, Inc. (NASDAQ:FARO), Fortive Corp. (NYSE:FTV), Hexagon AB Class B (STO:HEXA-B), Itron, Inc. (NASDAQ:ITRI), Landis+Gyr Group AG (SIX:LAND), MKS Instruments, Inc. (NASDAQ:MKSI), MTS Systems Corporation (NASDAQ:MTSC), National Instruments Corporation (NASDAQ:NATI), Oxford Instruments plc (LSE:OXIG), Sensata Technologies Holding PLC (NYSE:ST), Spectris plc (LSE:SXS), TE Connectivity Ltd. (NYSE:TEL), Teledyne Technologies Inc. (NYSE:TDY), Teradyne, Inc. (NASDAQ:TER), Xylem Inc. (NYSE:XYL).
Life Sciences T&M Index: Agilent Technologies, Inc. (NYSE:A), Becton, Dickinson and Company (NYSE:BDX), Bio-Rad Laboratories, Inc. (NYSE:BIO), Bio-Techne Corporation (NASDAQ:TECH), Bruker Corporation (NASDAQ:BRKR), Danaher Corporation (NYSE:DHR), Mesa Laboratories, Inc. (NASDAQ:MLAB), Mettler-Toledo International Inc. (NYSE:MTD), PerkinElmer, Inc. (NYSE:PKI), Sartorius AG (FWB:SRT), Thermo Fisher Scientific Inc. (NYSE:TMO), Waters Corporation (NYSE:WAT).
Communications / Network T&M Index: Advantest Corp. (TSE:6857), Anritsu Corporation (TSE:6754), EXFO Inc. (NASDAQ:EXFO), Keysight Technologies Inc. (NYSE:KEYS), NetScout Systems, Inc. (NASDAQ:NTCT), Spirent Communications plc (LSE:SPT), Viavi Solutions Inc. (NASDAQ:VIAV).
Industrial Automation Index: ABB Ltd. (SIX:ABBN), ATS Automation Tooling Systems Inc. (TSX:ATA), Cognex Corporation (NASDAQ:CGNX), Emerson Electric Co. (NYSE:EMR), FANUC (TSE:6954), FLIR Systems, Inc. (NASDAQ:FLIR), Honeywell International Inc. (NYSE:HON), Keyence Corporation (TSE:6861), KION GROUP AG (FWB:KGX), Lincoln Electric Holdings, Inc. (NASDAQ:LECO), OMRON Corporation (TSE:6645), Rockwell Automation, Inc. (NYSE:ROK), Schneider Electric SE (Euronext:SU), Siemens AG (FWB:SIE), Yaskawa Electric Corporation (TSE:6506), Yokogawa Electric Corp. (TSE:6841).
Spark
Our quarterly email featuring insights on markets, sectors and investing in what matters