Insights
2021 Year-End Sector Report: Food, Beverage & Agribusiness
Post-pandemic rally
2021 marked a record year for M&A volume in the U.S. food, beverage and agribusiness industry. Increased appetites to drive growth and capital deployment through M&A and strong carryover from 2020 contributed to the record volume. A total of 495 transactions involving U.S. targets were announced, surpassing strong pre-COVID (CY 2019) levels by 15%. Dollar volume more than doubled from $19.7 billion in 2019 to $46.3 billion with mega deals (>$ 1 billion) comprising more than 75% of total 2021 deal value. Sustained, elevated valuations and the potential for a punitive Biden administration change in tax policy accelerated timelines for certain sellers, while a record surplus of private capital and low interest rates continued to fuel strong demand among strategic acquirers and financial sponsors. We saw a modest, but expected deceleration in announced deals in 3Q2021 and 4Q2021 as investors digested the 2020 carryover and holidays entered into the seasonal mix.
CHART 1: U.S. FOOD, BEVERAGE & AGRIBUSINESS M&A VOLUME — LATEST TEN YEARS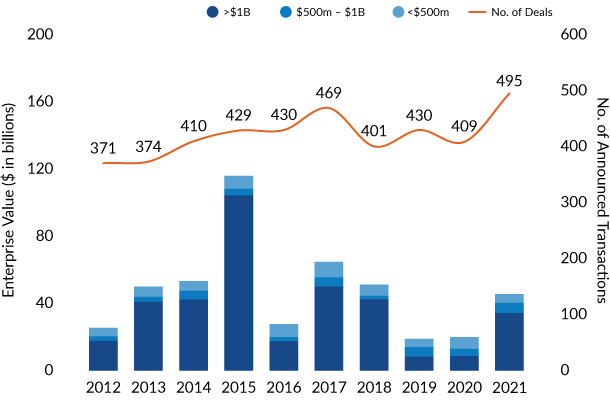 Source: S&P Capital IQ as of December 31, 2021. | Note: Excludes restaurants and retail grocery.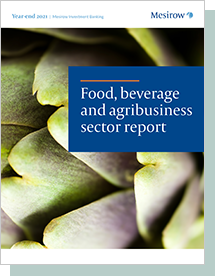 Spark
Our quarterly email featuring insights on markets, sectors and investing in what matters