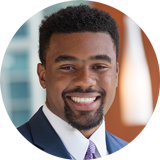 David Moore
"What drives me in my work is our clients' satisfaction. There is something truly heartwarming about being an integral part of helping someone meet, achieve and exceed lifetime financial goals they have set for themselves."
I joined Mesirow because...
I felt I could truly be my whole self at work.
Hobbies
Boxing, Golfing, Reading, Self-Proclaimed Food Critic
Education
Duke University, B.A. in Public Policy, Minor in African/African-American Studies
Causes
Fighting to give all diverse candidates and kids the education needed to thrive in financial services
Favorite Book
What is Worth While by Anna Robertson Brown-Lindsay
Mesirow invests in me by...
continuously granting me access to senior officers to learn from and contributing to my business acumen as a young professional through various professional coaching opportunities, the NextGen Leaders program, being the most impactful thus far.
One of the things I'm most proud of is...
my passion and drive for helping others.
The most important thing when collaborating as part of a team is...
reliability, flexibility and diplomacy.
At Mesirow, I'm passionate about...
the colleagues, clients and superiors I get to work with and learn from every day, making Mesirow so unique and special.