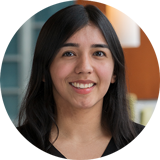 Lorena Esparza
"I joined Mesirow because it has been a place of continuous growth for me."
I joined Mesirow
as a Cristo Rey Intern in 2013 and as a full-time employee in June 2021.
Hobbies
Spending time with friends, trying new restaurants in the city and walking my dog
Favorite Book
La Casa de los Espíritus by Isabel Allende and Song of Solomon by Toni Morrison
Fun fact
I am an avid reader and a part of two book clubs
I am passionate about...
being able to set an example for the young girls coming after me. I am so thankful for all the opportunities that have come my way. Opportunities that women in my family did not have. I completed my education and that allowed me to pursue new experiences that I did not know even existed. I have been able to explore a new world I knew nothing about. I want to show young girls that look like me that they have choices and there is a big world out there for them.
I decompress by...
listening to music and going on long walks in the park. I also love planning elaborate dinner parties with my friends. We spend time cooking, eating and recharging for the week. It is great to make time and connect with friends who are also navigating young adulthood.
One thing that has surprised me about my career at Mesirow is...
how easily I have been able to make connections with people across the firm. When I started at 14, I interned in the Office of the Chairman and got to know Richard and the great team who supports him. On this team, I had the opportunity to meet the employees of Mesirow, although I didn't work alongside them. Now that I am a full-time employee in marketing, supporting our Investment Management teams, I get to reconnect with some of these people while building new relationships as well.