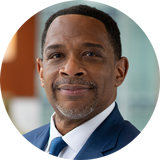 Carl Davis
"I'm driven to help my internal stakeholders identify the best talent possible for every role, across every business line."
I was drawn to Mesirow because...
it is an independent, employee-owned firm with a sterling reputation spanning more than eight decades.
EDUCATION
University of Illinois at Chicago, BS, Liberal Arts
WORD THAT DEFINES YOU
Encouraging
CAUSE
Investing in today's youth and tomorrow's leaders
A hallmark of what I do at Mesirow is...
Providing strategic and thoughtful leadership while exemplifying humility coupled with strength. Each day, as I work with young and experienced professionals who are considering taking their next career step at Mesirow, I strive to provide world-class expertise and support to external candidates and my internal partners.
Something my colleagues may not know is that...
I come from a very large and loving family. My father was a very successful record producer, and that enabled him to raise us in a culture that would benefit us years down the road. It also taught me to treat everyone with dignity and respect, regardless of status. My mother passed away when I was five years old and I was raised by my dad. He has had a profound impact on everything I do. In fact, we honored and celebrated his legacy here at Mesirow during a recent Black History Month.
Workplace culture matters because...
It enables me to understand the types of individual personalities that will thrive in at Mesirow and provide guidance and advice to candidates on what it's like to build a career here. Culture is what makes us different, what distinguishes our products and services, and what makes our people want to come to work every day.