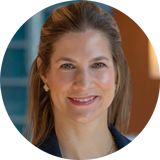 Kristina Pierce, CFA
"I joined Mesirow because of its strong reputation, boutique feel and collegial work environment."
I joined Mesirow
in July 2007.
Education
University of Notre Dame
Motto
"Do your best and forget the rest."
Causes
Board member of Cristo Rey Jesuit High School and supporter of Big Shoulders.
At Mesirow, I'm passionate about...
learning about new investment opportunities within the private equity asset class and what attributes make an excellent private equity firm.
The most important thing when collaborating as part of a team is...
good communication, which also includes a willingness to listen.  If a team has a clear goal and focus that is communicated effectively, that helps set the stage for effective collaboration.
What drives me in my work is...
selecting high-quality investment opportunities for our clients in order to help them meet their return objectives. Our clients include pension funds, endowments and foundations that rely on the returns we generate within their portfolios to execute their missions, including funding obligations to their retirees or positively impacting their communities.