Insights
2020 Year-End Review: Food, Beverage & Agribusiness
2020: Year-end review
Key market drivers
2020 started as a turbulent year for the capital markets coming off what was an active 2019 for M&A and capital formation transactions. 1H2020 was characterized by a significant slowdown on the heels of the global COVID-19 pandemic, with product shortages due to pantry loading,  shuttered restaurants following government-mandated lockdowns, volatile agricultural commodity prices and a rapid shift to online ordering. 2H2020 experienced a rather unprecedented recovery across most industries, including the food, beverage and agribusiness ("FB&A") sector. While the number of announced FB&A deals was flat year-over-year, deal value more than doubled from $28.8 billion in 2019 to $65.5 billion in 2020. This included nine deals valued at more than $1 billion in enterprise value, which accounted for 74% of total deal value.
CHART 1: U.S. FOOD, BEVERAGE AND AGRIBUSINESS M&A VOLUME — LATEST TEN YEARS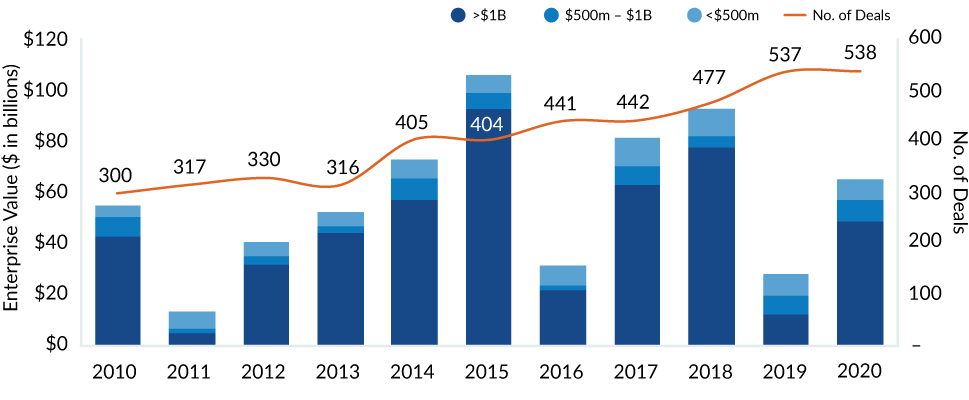 Source: FactSet as of December 31, 2020.
Multiples for performing businesses continued to be strong while the overall quality of deal flow moderated. Continued strong private equity ("PE") and strategic interest, and increased buyer bandwidth further supported elevated multiples.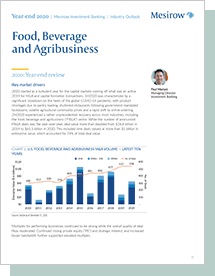 Spark
Our quarterly email featuring insights on markets, sectors and investing in what matters