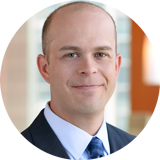 Steve Swierczewski, CFA
Senior Managing Director | Global Investment Management Distribution
Steve Swierczewski is Senior Managing Director and Head of Mesirow's Global Investment Management Distribution team. He leads the team responsible for marketing and distribution of all investment capabilities to institutional investors and investment consultants globally.
Preceding this role, Steve was the Head of the Global Client Relationship Team for Mesirow Advanced Strategies. Prior to joining Mesirow in 2012, he served as Vice President of Global Strategic Relationships for J.P. Morgan Asset Management. Previously, Steve was at Calamos Investments.
Steve earned a Bachelor of Science in finance from the University of Illinois at Urbana-Champaign and an Master of Business Administration from Northern Illinois University. In addition, he is a CFA® charterholder.