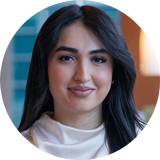 María Contreras
"What drives me in my work is the ability to align my passions and lived experiences to further drive business impact. As a digital marketing strategist, I have the unique opportunity to amplify our story."
I joined Mesirow
as a Cristo Rey intern in 2014 and as a full-time employee in 2022.
Causes
Creating equitable opportunities for inner-city youth to ensure a foundation of lifelong learning
Favorite Book
all about love by bell hooks and The Art of Racing in the Rain by Garth Stein
Hobbies
Trying new cuisines abroad and then attempting to recreate them for my friends at home
I joined Mesirow because...
In many ways, I have grown up alongside Mesirow. I first joined the firm in 2014 as a Cristo Rey high school freshman interning with Mesirow Advanced Strategies. The unwavering support from the relationships I cultivated throughout those formative years kept bringing me back. Every college break, I eagerly returned, and every reunion was special. At the end of the summer, I would reflect on the magnitude of my growth. Just as I have had a multitude of evolutions, I have also witnessed many exciting changes at the firm such as the firmwide rebrand and welcoming Natalie, our first woman CEO.
Mesirow is the type of place where you feel seen. It makes you want to become the best you can be to better serve those around you. As such, it was a no-brainer to return. Upon graduation in May, I joined full-time and now I get to share the Mesirow impact in our Digital and Marketing Technology team. 
Advice to my younger self would be...
Treat everyone with the upmost kindness and respect. We truly never know everyone's journey. And, in moments of uncertainty, strive to spark and seek joy.
What drives me in my work is...
The ability to align my passions and lived experiences to further drive business impact. There is so much beauty in our entrepreneurial spirits. As  a digital marketing strategist, I have the unique opportunity to amplify our story.