We provide...
Strategic and financial advisory services to leading industrials companies in the middle-market.  With years of relevant transaction experience and a global network of long-standing relationships, our senior bankers devote a high level of attention to every transaction and ensure we meet the unique needs of our clients.
Sector focus
Test & Measurement
- Instrumentation
- Sensors
- Nondestructive test
- Testing & inspection services
Industrial Automation
- Building/climate control
- Robotics
- Machine vision
- Industrial/infrastructure
- Autonomous mobility
Process Controls
- Pumps, meters, valves, actuators
- Motion control
- Hydraulics
- Engineered products
Industrial Technology
- Safety & security
- Electronics
- RFID, AIDC & Product ID
- Wireless communications
- Telematics
Specialty Vehicle
- Off-highway
- Heavy duty
- Aftermarket
Machinery & Equipment
- Tools/consumables
- Material handling
- Packaging/plastics
- Mobile/power generation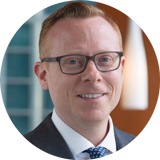 "We focus on the unique needs of our clients and implement custom strategies that ensure we meet their strategic and financial goals."
Nathan Moeri, Managing Director, Investment Banking
Stay current...
on what's new in the M&A landscape and subscribe to quarterly news and commentary on sectors and industries from our senior banking professionals.
Subscribe
Spark
Insights on markets, sectors and investing in what matters.