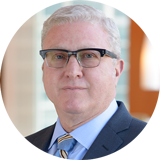 Charles L. Kendrick
Senior Managing Director & Co-Chief Investment Officer | Institutional Real Estate Direct Investments
Charlie Kendrick is a Senior Managing Director in Mesirow Institutional Real Estate Direct Investments. He is responsible for overseeing the acquisition and disposition processes.
Charlie has more than 25 years of real estate transaction experience, including sourcing, underwriting and due diligence for both acquisition and dispositions of various asset types. He has been involved in acquiring and divesting over $6.0 billion in real estate assets. Prior to joining Mesirow in 2007, he was a Principal of Investments for a Chicago-based real estate investment firm.
Charlie is a member of the Pension Real Estate Association, the International Council of Shopping Centers and the Urban Land Institute. He also serves on the board of the National Multi-Housing Council.
Charlie earned a Bachelor of Science from Clemson University and has served honorably in the United States Army.